Reflections on the 2019 Environmental Grantmakers Association Retreat
By
Emma Dolce
November 1, 2019
2019 Environmental Fellows pose for a selfie in front of the US Capitol after the Congressional Convening on Environmental Justice hosted by the House Committee on Natural Resources.
Going into the Environmental Grantmakers Association (EGA) Annual Retreat, I didn't really have a good idea of what to expect. When my friends asked me where I was going for the week, I just told them that it was "a conference for environmental groups" because that was what I understood it to be. What I did experience was very different from any conference I had ever been to, and that is in large part by design. EGA calls this annual meeting a Retreat on purpose with the intention of strengthening relationships between funders and build relationships within the environmental movement as opposed to a traditional "conference" format. All of the fellows were paired with mentor "buddies," folks who had been to past EGA Retreats to show us the ropes. My buddy sent me an email a week before the Retreat, welcoming me to EGA and asking if I had any questions. I then met her at the newcomers welcome and reception. Throughout the Retreat my buddy checked in with me frequently, asking if I had questions and introducing me to people in my field. As a policy student, I felt a little out of place at first since the Retreat participants were primarily environmental funders. However, Angie (my buddy) had soon introduced me to everyone and anyone at the Retreat who did environmental policy work. This welcoming attitude early on really set the tone for the rest of the retreat.
One of the other things that made the Retreat different from other conferences was all the attention we received as fellows. It seemed like every table I sat down at during lunch or in the plenary sessions, someone would see my name tag with "Fellow" on it and start asking me questions about my experience. So many people were interested in what all of the fellows had to say on issues from energy regulation to the youth climate movement. I think this was partly because as a group of mostly young people of color, we stood out from many of the attendees at the Retreat. I also think some of this visibility was because many of us gave mainstage Flash Talks in front of all the attendees. The Flash Talks were a great way to practice our public speaking skills and, in some cases, turned us into mini "celebrities" during the conference. While it was a little nerve-wracking to be so in the spotlight, I really appreciated how excited people were to get to know us. It made networking that much more comfortable and was a great professional development opportunity.
My favorite part of the EGA Retreat was the opportunity to spend time and build community with the other EFP Fellows. This was the first time most of us had been together since orientation and it was great to hear about everyone's fellowship and what they were moving on to next. While I greatly enjoyed getting to meet and learn from EGA members and experts in the plenary and breakout sessions, I think some of my most rewarding conversations were with the other Fellows. The breadth and depth of knowledge represented by my cohort was really inspiring and it was very rewarding to be with so many other young people at similar stages of their careers. It was also so helpful to be around other people who were navigating networking and the sometimes chaotic nature of the Retreat. I can say with confidence that I will maintain relationships and connections with my cohort throughout my career and I am grateful to EGA and SEAS for bringing together such a dynamic group of young people.
About Emma Dolce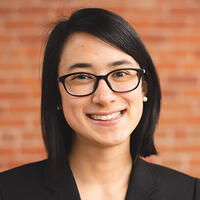 Emma Dolce is currently pursuing a Master of Public Policy degree from the Ford School at the University of Michigan. She grew up in Ann Arbor, Michigan and attended Kalamazoo College where she majored in political science. Emma's interests lie in the intersection of environmental and social policy with a focus on mitigating the effects of climate change on underserved populations. In her free time, she enjoys being outside, playing ultimate frisbee, reading, food, and running.