Fellows List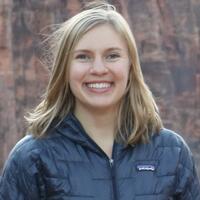 Skyler is from Colorado and studied Environmental Studies at Santa Clara University in the San Francisco Bay Area. During her undergraduate studies, she volunteered for fossil fuel divestment and worked as an environmental justice and agroecology research assistant. After graduating, they worked on climate action and resilience planning as a CivicSpark AmeriCorps Fellow before moving to Michigan to study Environmental Justice at UM's School for Environment and Sustainability. Skyler plans to follow a career trajectory advocating for Indigenous rights, community-driven research, and food sovereignty. Outside of studying, she's likely running, roller skating, or catching up with family and friends.
Carla López Lloreda (she/her) is a Puerto Rican Ph.D. student at Virginia Tech studying water quality and carbon cycling in streams and wetlands. She obtained her bachelor's degree in Environmental Sciences at the University of Puerto Rico and later worked as a research technician where she worked on projects understanding hurricane impacts in tropical forests. More broadly, she is interested in improving our understanding of water resources to better manage these and improve communities' resilience to natural disasters. She hopes to return to her island and work in water resource management through environmental non-profits.
Evan is Master of Public Affairs (MPAff) candidate in the Lyndon B. Johnson School of Public Affairs at the University of Texas at Austin. His policy research includes renewable energy development, deployment, and the intersection of energy justice. Evan's coursework and professional experience with the Texas Energy Poverty Research Institute (TEPRI) seeks to understand, visualize, and reduce energy burdens, and increase access to renewable fuel sources for low-income Texans. Evan received his B.A. in Political Science and Geography from George Washington University. A native Texan and the son of immigrants, Evan was born and raised in El Paso, Texas.
Graduate Institution:
University of California, Santa Barbara
Degree Program:
Master of Environmental Science and Management (MESM)
Foundation Sponsor:
National Philanthropy Trust
Host Organization:
Restoring America's Estuaries
Ambria McDonald, a native Mississippian, holds a Bachelor's degree in Biology from Howard University and a Master of Public Health (MPH) degree from Baylor University. She is a former ORISE Fellow where she worked as a Tribal Coordinator in the Standards and Health Protection Division at the U.S. Environmental Protection Agency. Ambria is passionate about addressing water-related issues (access, equitable distribution, waterborne diseases) for vulnerable populations. She is currently a second-year Ph.D. student at Yale School of the Environment. When she is not studying, you can find her traveling, dancing, or trying a new cuisine.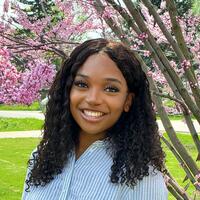 April Parker was born and raised in the south suburbs of Chicago. She attained her bachelor's degree in Biology with a concentration in Ecology and a minor in Spanish. Currently, April is pursuing an M.S. in Environmental Science and Sustainability with a concentration in Environmental Law and Policy at Loyola University. She will attend Northwestern University for her second master's degree to study Plant Biology and Conservation. April's interests are environmental justice, wildlife conservation, sustainable food systems, and agriculture. Ultimately, April aspires to manage an urban community garden on the southside of Chicago and to become a university professor.
Host Organization:
Environmental Grantmakers Association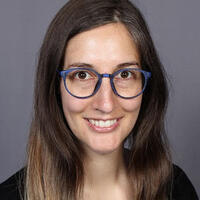 Kayli Paterson (she/they) is currently pursuing a dual master's in Environmental Studies and Sustainability and Public Administration at the College of Charleston in Charleston, South Carolina. Their current research focuses on emerging contaminants in stormwater, evaluating possible treatment options for increased contaminate removal and regulatory options targeting emerging contaminants such as microplastics. They hope to continue their work on mitigating the impacts of urban stormwater on nearby environments and communities. This summer, they will be working at the Mystic River Watershed Association.
Foundation Sponsor:
National Philanthropy Trust
Host Organization:
Mystic River Watershed Association
Sophia Ptacek is a joint MEM/MPH student at the Yale School of the Environment and Yale School of Public Health specializing in energy policy and climate change. She is interested in understanding how climate mitigation can result in myriad health co-benefits for all. Prior to Yale, Sophia worked as a Program Assistant at the Natural Resources Defense Council (NRDC) where she collaborated with a team of analysts to leverage policy modeling and geospatial analysis in support of climate and clean energy advocacy. She holds a bachelor's degree in the Science in Society Program from Wesleyan University.
Kiera Quigley is a Master of Environmental Management candidate at the Yale School of the Environment, Class of 2023 and a Research Fellow in the Justice, Equity, Diversity, and Sustainability Initiative, through which she investigates food access and security in West Michigan communities. Prior to coming to YSE, Kiera received a B.S. in Fisheries & Wildlife from Michigan State University and subsequently completed a year of AmeriCorps service in Sitka, Alaska. Kiera is a 2019 alumna of the Doris Duke Conservation Scholars Program at the University of Michigan. This summer, Kiera will be completing her EFP fellowship at Groundwork USA in the Equitable Climate Resilience project area.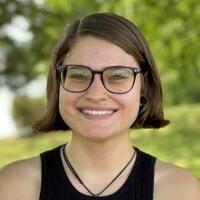 Julianna Ramirez is currently pursuing a Master of Marine Science with an emphasis in aquatic health sciences from Virginia Institute of Marine Science, College of William and Mary. Julianna's research is focused on the transport of microplastics from indoor spaces through wastewater treatment plants and into the environment. She received her Bachelor's degree in cellular, molecular, and biomedical biology from Boise State University in 2021. In her free time, she enjoys outdoor activities, dancing, and reading philosophical fiction. 
Host Organization:
Student Conservation Association